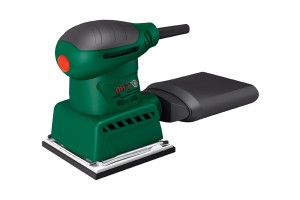 Constructive features:
Integrated dust exhaust system extracts the dust and diverts it directly to the dust bag. This reduces the airborne dust concentration and prevents dust collecting at the workplace. A vacuum cleaner may be connected with the aid of a special adapter.
Sanding plate is furnished with special dust extraction holes.
Soft grip offers additional comfort for the user.
On/off switch is positioned to facilitate single-handed operation. When switched to ON, the switch is fixed to make even lengthy periods of work comfortable.
Technical Data

ESS-190

 Specification

ESS-190

 Rated power

[W]

200

 EAN Code*

7640134122846

 No-load speed

[RPM]

11000

 Packing type

Colour box

 Variable speed

–

 Standard delivery set**
 Orbital diameter

[mm]

1,40

 Orbital sander

[pcs]

1

 No-load oscillations rate

[OPM]

22000

 Owner`s manual

[pcs]

2

 Sanding paper size

[mm]

115×140/115×107

 Vacuuming connector piece

[pcs]

1

 Sanding surface size

[mm]

113×105

 Dust bag

[pcs]

1

 Type of fastening system

[mm]

Clamping
Velcro

 Sanding paper

[pcs]

1

 Amperage at voltage 230 V

[Amps]

0,87

 Weight

[kg]

1,20