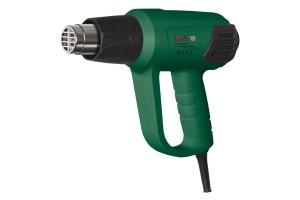 Constructive features:
Cold air mode makes it possible to cool the power tool quickly, which prolongs the service life of the hot air gun. Also surfaces and work-parts can be cooled after heat treatment. Only the fan works in cold air mode; the heating element is turned off.
Additional handle allows holding the power tool with both hands and may be turned to different positions.
Different types of nozzles are practical helpers that carry out different work comfortably and efficiently.
Case is made from special, hard and thermo-resistant plastic, and is well protected against deformation and overheating.
Heat cap covers the part of the metal nozzle [which becomes very hot while working]; the risk of burns is reduced. It can be taken off to make access to hard-to-reach areas easier.
On/off switch position facilitates one-hand operation. When switched to ON, the switch is fixed to make extended periods of work more comfortable.
Technical Data

HLP20-600 K

 Specification

HLP20-600 K

 Rated power [Stage I / II / III]

[W]

100/1000/2000

 EAN Code*
 Amperage at voltage 230 V [Stage I/II/III]

[Amps]

0.40/4.30/8.70

 Packing type

Colour box

 Temperature [Stage I / II / III]

[°C]

50/350/550

 Standard delivery set**

 Air flow [Stage I / II / III]

l/min

350/350/500

 Hot air gun

[pcs]

1

 Cool stage

●

 Owner`s manual

[pcs]

2

 Weight

[kg]

0,70

 Additional handle

[pcs]

1

 Pointed nozzle

[pcs]

1

 Deflector nozzle

[pcs]

1

 Reflector nozzle

[pcs]

1

 Flat jet nozzle

[pcs]

1