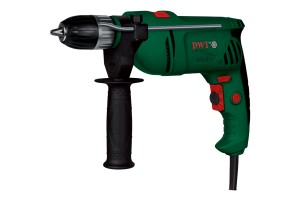 Constructive features:
Speed regulator allows of optimal working speed for the effective treatment of all varnished surfaces, as well as the appropriate cleaning, sanding and polishing of coated surface.
On / off switch has a large contact surface and the right-/left rotation switch is optimally positioned.
Key-less chuck enables fast manual changing of accessories without special key.
Soft grip offers additional comfort for the user.
Locking button for on / off switch serves for blocking of on / off switch in depressed position that makes it comfortable to work continuously.
Technical Data

SBM-780 C

 Specification

SBM-780 C

 Rated power

[W]

780

 EAN Code*

7640134121771

 Amperage at voltage 230 V

[Amps]

3.70

 Packing type

Colour box

 No-load speed

[RPM]

0-2800

 Standard delivery set**

 Variable speed

●

 Impact drill

[pcs]

1

 Percussion rate

[BPM]

44800

 Owner`s manual

[pcs]

2

 Chuck type

Keyless chuck

 Depth stop

[pcs]

1

 Chuck tightening range

[mm]

2-13

 Additional handle

[pcs]

1

 Drilling output in wood

[mm]

30

 Drilling output in steel

[mm]

13

 Drilling output in concrete

[mm]

16

 Drill chuck thread

1/2″x20 UNF

 Weight

[kg]

2,10