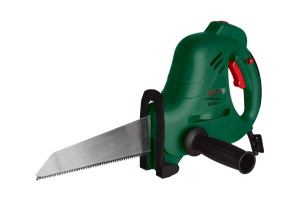 Constructive features:
Base plate guarantees the vertical position of the sawing blade toward the power tool and eases the performance of vertical cuts. The base plate is adjustable for both vertical and horizontal cuts.
Additional handle allows holding the power tool with both hands and may be turned to different positions.
Soft grip offers additional comfort for the user.
Lock-off button prevents an accidental operation of the power tool. The power tool may be switched ON by pushing the lock-off button only.
Stroke rate regulator is used to preset the stroke rate of the sawing blade depending on the requirement of the optimal sawing result.
On/off switch is positioned to facilitate single-handed operation. When switched to ON, the switch is fixed to make even lengthy periods of work comfortable.
Technical Data

SS-500 VS

 Specification

SS-500 VS

 Rated power

[W]

500

 EAN Code*

7640134121061

 Amperage at voltage 230 V

[Amps]

2,18

 Packing type

Colour box

 Stroke rate at no-load

[SPM]

0-2900

 Standard delivery set**

 Stroke length

[mm]

12

 Sabre saw

[pcs]

1

 Variable speed

●

 Owner`s manual

[pcs]

2

 Cutting ability in wood

[mm]

100

 Carbon brush

[pcs]

2

 Cutting ability in aluminum

[mm]

3

 Allen key

[pcs]

1

 Cutting ability in plastic

[mm]

25

 Saw blade for metal

[pcs]

1

 Weight

[kg]

2,30

 Saw blade for plastic

[pcs]

1

 Saw blade for wood

[pcs]

1

 Additional handle

[pcs]

1