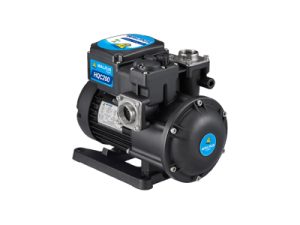 Description
This HQC series is most suitable to be installed below the water tank, to downward pressurization. When using the water the pump will automatically start and increase the pressure to supply water, when water is closed the pump will automatically switch-off.
Features
1. Compact design and quiet operation make the HQC series suitable for many applications.
2. The HQC is constructed from the top quality corrosion resistant material.
3. The motor has built-in thermal overload to protect against high operating temperatures and over current.
Operating Conditions
Ambient temperature: Max. +40°C
Liquid temperature: + 4°C ~ + 40°C
Pressure Range : Max. 6kg/cm²
Suction Pipes: Must run in positive pressure only a negative pressure unable to work the pump.
Discharge Pipes: Must lower than water tower over 0.5-meter.
Specifications, 50Hz
Type
Power
(kW)
Phase
(Ø)
Voltage
(V)
Ampere
(A)
Inlet
(in.)
Outlet
(in.)
Maximum Pressure
(kg/cm²)
Maximum Capacity
(L/min)
N.W.
(kg)
HQC200
0.18
1
200~240
1.5
1″
1″
2.4
55
7.3
HQC400
0.37
1
200~240
2.8
1″
1″
3.1
85
8.3
HQC800
0.75
1
200~240
4.5
1″
1″
3.3
110
11.1