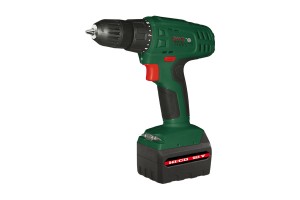 Constructive features:
Level indicator allows accurate screwdriving at an angle of 90° to the working surface.
Torque regulator ensures optimal adjustment of contact pressure and rotatory force.
Keyless chuck enables fast manual changing of accessories without special key.
Soft grip offers additional comfort for the user.
Rotational direction switch makes it possible to choose rotating direction.
Technical Data

ABS-12

 Specification

ABS-12

 Rated voltage

[V]

12

 EAN Code

7640134121344

 No-load speed

[RPM]

0-550

 Packing type

Colour box

 Battery charging time

[h]

3-5

 Standart delivery set
 Battery capacity

[Ah]

1,3

 Cordless drill/screwdriver

[pcs]

1

 Chuck type

Keyless chuck

 Owner`s manual

[pcs]

2

 Chuck tightening range

[mm]

0,8 – 10

 Screwdriver bit [25 mm]

[pcs]

1

 Drilling output in wood

[mm]

20

 Accessory holder

[pcs]

1

 Drilling output in steel

[mm]

10

 Power unit

[pcs]

1

 Max. screw diameter

[mm]

8

 Battery

[pcs]

1

 Drill chuck thread

3/8″x24 UNF

 Strap

[pcs]

1

 Weight

[kg]

1,54