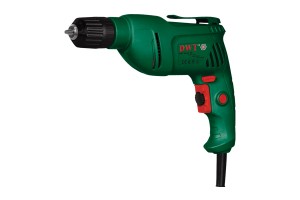 Constructive features:
Key-less chuck with a safety lock enables fast changing of the various accessories without special key. The safety lock prevents accidental loosening of the chuck. The key-less chuck can be used with shaft diameters of 2 mm to 13 mm.
Rotational direction switch makes it possible to choose rotating direction.
Speed regulator makes it possible to set up optimal speed for the respective materials. The preset speed is reached by fully pressing down on the on/off switch.
Electronic speed control enables step-less increasing of the motor speed with the on/off switch.
Locking button for on / off switch serves for blocking of on / off switch in depressed position that makes it comfortable to work continuously.
Technical Data

BM-400 C

 Specification

BM-400 C

 Rated power

[W]

400

 EAN Code*

7640134122167

 Amperage at voltage 230 V

[Amps]

1.85

 Packing type

Colour box

 No-load speed

[RPM]

0-3000

 Standard delivery set**

 Variable speed

●

 Drill

[pcs]

1

 Chuck type

Key-less chuck

 Owner`s manual

[pcs]

2

 Chuck tightening range

[mm]

1,5-10

 Drilling output in wood

[mm]

20

 Drilling output in steel

[mm]

10

 Drill chuck thread

3/8″x24 UNF

 Weight

[kg]

1,43