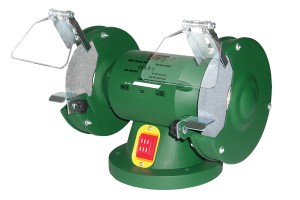 Constructive features:
Spark protector made of acrylic glass is moved into a downward position to protect the user from sparks and metal filings during the grinding process. The acrylic glass protector may be adjusted to the most suitable angle for work.
Base plate is equipped with rubber mounts for secure mounting of the power tool on the worktable.
Workpiece support enables safe placement of the workpiece on the grinding disc.
Disc protector are made of steel and cover the grinding discs from all sides to protect the user. Wheel guards for grinding discs of up to 200 mm may also be used with smaller disks, e. g. 125 mm or 150 mm.
Technical Data

DS-200 KS

 Specification

DS-200 KS

 Rated power

[W]

200

 EAN Code*

7640134120835

 No-load speed

[RPM]

2950

 Packing type

Colour box

 Max. Ø of grinding disc [D]

[mm]

150/150

 Standart delivery set**
 Bore Ø of grinding disc [B]

[mm]

12,7/12,7

 Double grinder

[pcs]

1

 Thickness of grinding disc [d]

[mm]

16/16

 Grinding disc

[pcs]

2

 Amperage at voltage 230 V

[Amps]

0,87

 Mounting screw with nut

[pcs]

2

 Weight

[kg]

8,40

 Workpiece support

[pcs]

2

 Screw with fly-nut

[pcs]

2

 Spark protector

[pcs]

2