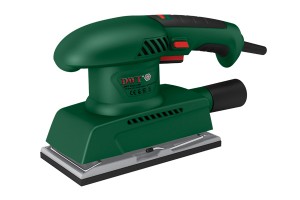 Constructive features:
Speed selector controls the vibrations necessary to achieve the optimal sanding finish for a specific surface. The vibration rate may be adjusted when the power tool is running.
Integrated dust exhaust system extracts the dust and diverts it directly to the dust bag. This reduces the airborne dust concentration and prevents dust collecting at the workplace. A vacuum cleaner may be connected with the aid of a special adapter.
Sanding plate is furnished with special dust extraction holes.
Soft grip offers additional comfort for the user.
Technical Data

ESS-200 V

 Specification

ESS-200 V

 Rated power

[W]

200

 EAN Code*

7640134122952

 No-load speed

[RPM]

6000-12000

 Packing type

Colour box

 Variable speed

●

 Standard delivery set**

 Orbital diameter

[mm]

2

 Orbital sander

[pcs]

1

 No-load oscillations rate

[OPM]

12000-24000

 Owner`s manual

[pcs]

2

 Sanding paper size

[mm]

93×230/93×185

 Vacuuming connector piece

[pcs]

1

 Sanding surface size

[mm]

90×182

 Dust bag

[pcs]

1

 Type of fastening system

[mm]

Clamping/Velcro

 Sanding paper

[pcs]

1

 Amperage at voltage 230 V

[Amps]

0,87

 Weight

[kg]

1,70