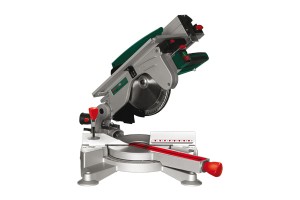 Constructive features:
Soft grip an handle and additional handle provides additional comfort during the working with the circular saw.
Base plate has a sturdy construction and provides a safe support for precise cutting.
On/off switch position facilitates one-hand operation. When switched to ON, the switch is fixed to make extended periods of work more comfortable.
Additional handle allows holding the power tool with both hands and may be turned to different positions.
 Technical Data

KGS18-255 K

 Specification

KGS18-255 K

 Rated power

[W]

1800

 EAN Code*

7640134121863

 No-load speed

[RPM]

5000

 Packing type

Colour box

 Max. / min. Ø of circular saw blade

[mm]

255/250

 Standard delivery set**

 Max. / min. bore Ø of circular saw blade

[mm]

30/30

 Combo mitre saw

[pcs]

1

 Max. thickness of circular saw blade

[mm]

3,00

 Owner`s manual

[pcs]

2

 Max. cutting depth [H x W] 0° / 90°

[mm]

70×110

 Circular saw blade

[pcs]

1

 Max. cutting depth [H x W] 0° / 90°

[mm]

70×70

 Wrench

[pcs]

3

 Max. cutting depth [H x W] 0° / 90°

[mm]

40×110

 Dust bag

[pcs]

1

 Max. cutting depth [H x W] 0° / 90°

[mm]

[L]35×60/[R]40×90

 Work clamp

[pcs]

1

 Amperage at voltage 230 V

[Amps]

8,00

Saw blade guard

[pcs]

1

 Weight

[kg]

24,00

Parallel guide

[pcs]

1/1

 Push stick

[pcs]

1

 Extension rod

[pcs]

–