Non-Illuminated Momentary Pushbuttons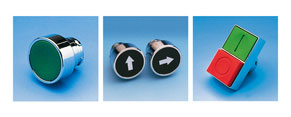 Metal Series Control Units.
In the human-machine interface field, Comepi manufactures a diverse range of products ranging from momentary push buttons to safety mushroom push buttons, pilot lights, joy stick selector switches, etc. Available from two wide product lines: metal and thermoplastic to meet all market needs. Comepi's enclosures are made of thermoplastic, aluminium and stainless steel. Mounted on Comepi's control and command units, they are an ideal complement for high-quality human-machine interface.