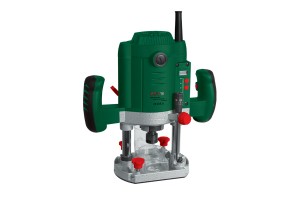 Constructive features:
Base plate is made of aluminium alloy. The bottom is covered with a plastic sliding plate to minimize wear and to enable gauge-free movements on the surface being treated.
Soft start enables a smooth and slow start-up of the router. The tool achieves maximum speed and works without jolting or jamming and without power overload.
Spindle lock blocks the spindle in its rotating movement so that the router bits may be inserted, or removed, respectively.
Plunge depth control system allows the user to select the desired milling depth.
Soft grip offers additional comfort for the user.
Lock-off button prevents an accidental operation of the power tool. The power tool may be switched ON by pushing the lock-off button only.
Technical Data

OF-1800 VE

 Specification

OF-1800 VE

 Rated power

[W]

1800

 EAN Code*

7640134121122

 No-load speed

[RPM]

8000-26000

 Packing type

Colour box

 Variable speed

●

 Standard delivery set**
 Tool holder

[mm]

12

 Plungle Router

[pcs]

1

  – with special accesory Ø

[mm]

6/8

 Owner`s manual

[pcs]

2

 Stroke of the router base

[mm]

60

 Roller guide

[pcs]

1

 Amperage at voltage 230 V

[Amps]

8,00

 Clumping bush[6mm/8mm]

[pcs]

1

 Weight

[kg]

4,90

 Aligning pin for circle cutting

[pcs]

1

 Guide bushing with screws

[pcs]

1

 Open spanner

[pcs]

1

 Extraction adapter

[pcs]

1

 Parallel guide

[pcs]

1