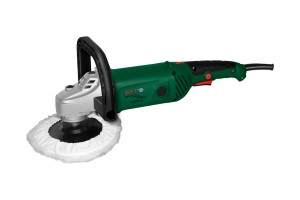 Constructive features:
Spindle lock blocks the spindle and facilitates quick fastening and disassembly of the rubber disk. The spindle lock is flush with the gear housing, thus preventing accidental manipulation during operation.
Additional handle allows holding the power tool with both hands and may be turned to different positions.
Speed regulator makes it possible to set optimal speed and impact rate for the respective materials.
Lock-off button prevents an accidental operation of the power tool. The power tool may be switched ON by pushing the lock-off button only.
Soft grip offers additional comfort for the user.
Locking button for on / off switch serves for blocking of on / off switch in depressed position that makes it comfortable to work continuously.
Technical Data

OP13-180 TV

 Specification

OP13-180 TV

 Rated power

[W]

1300

 EAN Code*

7640134122020

 No-load speed

[RPM]

1000-3000

 Packing type

Colour box

 Variable speed

●

 Standart delivery set**
 Spindle thread

M14

 Polisher

[pcs]

1

 Max. Ø of rubber sanding plate

[mm]

180

 Owner`s manual

[pcs]

2

 Amperage at voltage 230 V

[Amps]

6,50

 Open spanner

[pcs]

1

 Weight

[kg]

3,10

 Additional handle

[pcs]

1

 Rubber plate

[pcs]

1

 Polishing bonnet

[pcs]

1