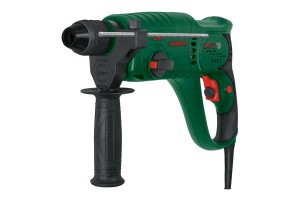 Constructive features:
DWT PLUS chuck allows fast manual changing of accessories without special key.
Additional handle allows holding the power tool with both hands and may be turned to different positions.
Function switch enables changing between three operational modes: drilling [in wood, metal, plastic], impact drilling [in masonry and concrete] and chiseling [removal of plaster, ceramic coatings or the chiseling of cable ducts].
Speed regulator allows of optimal working speed for the effective treatment of all varnished surfaces, as well as the appropriate cleaning, sanding and polishing of coated surface.
Soft grip offers additional comfort for the user.
D-form handle rotates into different positions.
Locking button for on / off switch serves for blocking of on / off switch in depressed position that makes it comfortable to work continuously.
On / off switch has a large contact surface and the right-/left rotation switch is optimally positioned.
Technical Data

SBH-900 DS BMC

 Specification

SBH-900 DS BMC

 Rated power

[W]

900

 EAN Code*

7640134120361

 Amperage at voltage 230 V

[Amps]

3.90

 Packing type

Case

 No-load speed

[RPM]

0-1100

 Standard delivery set**

 Variable speed

●

 Rotary hammer

[pcs]

1

 Percussion rate

[BPM]

0-5800

 Owner`s manual

[pcs]

2

 Single stroke power

[J]

2,20

 Carbon brush

[pcs]

2

 Chuck type

DWT PLUS

 Additional handle

[pcs]

1

 Drilling output in wood

[mm]

30

 Depth stop

[pcs]

1

 Drilling output in steel

[mm]

13

 Drilling output in concrete

[mm]

26

 Weight

[kg]

3,30