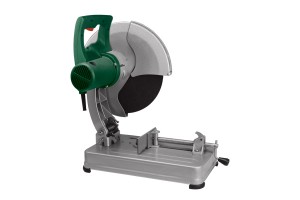 Constructive features:
Spindle lock provides an easy and safe cutting disc change.
Cutting disc safety casings enclose the cutting disc and provide an optimal safeguard to the user.
Base plate is made of aluminium alloy. The bottom is covered with a plastic sliding plate to minimize wear and to enable gauge-free movements on the surface being treated.
Carrying grip can be lowered for easy transportation and space-saving storage.
Cutting depth limiter bolt is used to set up the maximal cutting depth, which is to be carried out before start of work.
Lock-off button prevents an accidental operation of the power tool. The power tool may be switched ON by pushing the lock-off button only.
Soft grip offers additional comfort for the user.
Technical Data

SDS22-355 T

 Specification

SDS22-355 T

 Rated power

[W]

2200

 EAN Code*

7640134122129

 No-load speed

[RPM]

3750

 Packing type

Colour box

 Max. Ø of cutting disc

[mm]

355

 Standard delivery set**

 Bore Ø of cutting disc

[mm]

19/25,4/32

 Cut-off saw

[pcs]

1

 Spindle lock

[mm]

●

 Owner`s manual

[pcs]

1

 Max. cutting size

[mm]

145×108

 Cutting disc

[pcs]

1

 Amperage at voltage 230 V

[Amps]

10,00

 Fitting bush Ø 25,4 mm

[pcs]

1

 Weight

[kg]

19

 Fitting bush Ø 19 mm

[pcs]

1

 Allen key

[pcs]

1