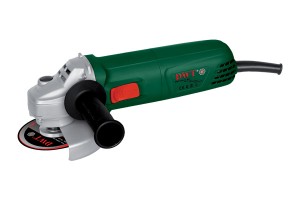 Constructive features:
Additional handle allow safe operation with both hands.
Spindle lock permits an easy and fast replacement of accessories. It is fitted within the gear housing for safety work.
On/off switch is positioned to facilitate single-handed operation. When switched to ON, the switch is fixed to make even lengthy periods of work comfortable.
Metal protective casing, rotatable by 360°, covers the disc in order to prevent eventual accidents by material waste.
Technical Data

WS08-115 V

 Specification

WS08-115 V

 Rated power

[W]

860

 EAN Code*

7640134121634

 Amperage at voltage 230 V

[Amps]

3.89

 Packing type

Colour box

 No-load speed

[RPM]

0-11000

 Standard delivery set**

 Variable speed

●

 Angle grinder

[pcs]

1

 Max. Ø of cutting disc

[mm]

115

 Owner`s manual

[pcs]

2

 Max. Ø of grinding disc

[mm]

115

 Flange wrench

[pcs]

1

 Max. Ø of rubber sanding plate

[mm]

115

 Open spanner

[pcs]

1

 Max. Ø of circular wire brush

[mm]

75

 Additional handle

[pcs]

1

 Max. Ø of cup wire brush

[mm]

75

 Protective casing

[pcs]

1

 Spindle thread

M14

 Weight

[kg]

2,05