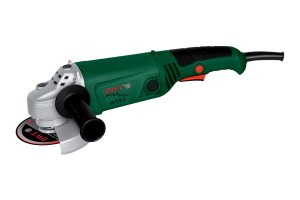 Constructive features:
Additional handle allow safe operation with both hands.
Spindle lock permits an easy and fast replacement of accessories. It is fitted within the gear housing for safety work.
Metal protective casing, rotatable by 360°, covers the disc in order to prevent eventual accidents by material waste.
Soft grip offers additional comfort for the user.
Locking button for on / off switch serves for blocking of on / off switch in depressed position that makes it comfortable to work continuously.
Technical Data

WS10-115 T

 Specification

WS10-115 T

 Rated power

[W]

1010

 EAN Code*

7640134121702

 Amperage at voltage 230 V

[Amps]

4.57

 Packing type

Colour box

 No-load speed

[RPM]

11000

 Standard delivery set**

 Variable speed

–

 Angle grinder

[pcs]

1

 Max. Ø of cutting disc

[mm]

115

 Owner`s manual

[pcs]

2

 Max. Ø of grinding disc

[mm]

115

 Flange wrench

[pcs]

1

 Max. Ø of rubber sanding plate

[mm]

115

 Open spanner

[pcs]

1

 Max. Ø of circular wire brush

[mm]

75

 Additional handle

[pcs]

1

 Max. Ø of cup wire brush

[mm]

75

 Protective casing

[pcs]

1

 Spindle thread

M14

 Weight

[kg]

2,30