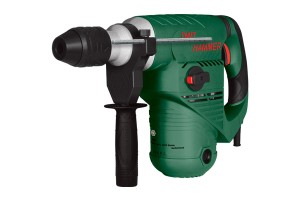 Constructive features:
DWT MAX chuck allows fast manual changing of accessories without a special key.
Additional handle allows holding the power tool with both hands and may be turned to different positions.
"Impact / drill" switch enables the change between two operation modes: drilling [in wood, metal, plastic] and impact drilling [in concrete, brick, masonry].
D-form handle rotates into different positions.
Soft grip offers additional comfort for the user.
 Technical Data

BH-1200 BMC

 Specification

BH-1200 BMC

 Rated power

[W]

1200

 EAN Code*

7640134120484

 Amperage at voltage 230 V

[Amps]

5.81

 Packing type

Case

 No-load speed

[RPM]

600

 Standard delivery set**

 Variable speed

–

 Rotary hammer

[pcs]

1

 Percussion rate

[BPM]

4500

 Owner`s manual

[pcs]

2

 Single stroke power

[J]

10,00

 Carbon brush

[pcs]

2

 Chuck type

DWT MAX

 Flange wrench

[pcs]

1

 Drilling output in concrete

[mm]

38

 Depth stop

[pcs]

1

 Weight

[kg]

7,00

 Additional handle

[pcs]

1