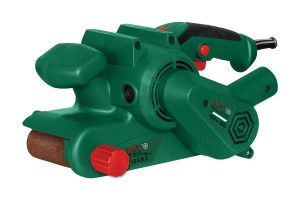 Constructive features:
Sanding belt clamping system with clamp lever is designed for easy and convenient replacement of sanding belt.
Integrated dust exhaust system extracts the dust and diverts it directly to the dust bag. This reduces the airborne dust concentration and prevents dust collecting at the workplace.
Speed selector allows the setting of optimum speed of the sanding belt depending on work requirements. The speed may be adjusted when the power tool is running. An optimal setting of speed excludes overloading.
Adjustment screw on the front wheel allows precise positioning of the sanding belt.
Technical Data

BS09-75 V

 Specification

BS09-75 V

 Rated power

[W]

900

 EAN Code*

7640134122907

 Amperage at voltage 230 V

[Amps]

3.90

 Packing type

Colour box

 Variable speed

●

 Standard delivery set**

 No-load belt speed

[MPM]

200-380

 Belt sander

[pcs]

1

 Sanding belt length

[mm]

533

 Owner`s manual

[pcs]

2

 Sanding belt width

[mm]

76

 Carbon brush

[pcs]

2

 Weight

[kg]

3,00

 Mounting kit

[pcs]

1

 Sanding belt

[pcs]

1

 Dust bag

[pcs]

1