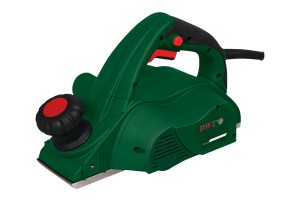 Constructive features:
Base plate provides a safe clamping of the power tool and guarantees secure working.
Vertical stop and side stop enable the precise definition of rebate depth and width.
Cutting depth regulator is continuously adjustable and at the same time may be used as an additional handle for safer positioning.
Lock-off button prevents accidental switching ON of the power tool.
Soft grip offers additional comfort for the user.
On/off switch is positioned to facilitate single-handed operation. When switched to ON, the switch is fixed to make even lengthy periods of work comfortable.
Technical Data

HB02-82

 Specification

HB02-82

 Rated power

[W]

710

 EAN Code*

7640134121955

 Amperage at voltage 230 V

[Amps]

3,10

 Packing type

Colour box

 No-load speed

[RPM]

14500

 Standard delivery set**

 Planing width

[mm]

82

 Power planer

[pcs]

1

 Planing depth

[mm]

0-2

 Owner`s manual

[pcs]

2

 Grooving depth

[mm]

0-16

 Belt sharpening device [assembly]

[pcs]

1

 Weight

[kg]

3,60

 Blade alignment fixture [assembly]

[pcs]

1

 Vertical stop

[pcs]

1

 Side stop

[pcs]

1

 Box wrench

[pcs]

1

 Drive belt

[pcs]

1