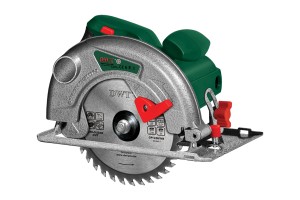 Constructive features:
Cutting depth adjustment allows making half-cuts in order to get clean cuts and sharp edges with the second try.
Soft grip an handle and additional handle provides additional comfort during the working with the circular saw.
Angular adjustment in this circular saw provides a precise and angle-accurate sawing of all required cuts. The inclination angle may be selected on the scale for the angular settings and fixed with clamping screws.
Base plate has a sturdy construction and provides a safe support for precise cutting.
Technical Data

HKS12-55

 Specification

HKS12-55

 Rated power

[W]

1200

 EAN Code*

7640134122679

 Amperage at voltage 230 V

[Amps]

5,6

 Packing type

Colour box

 No-load speed

[RPM]

5000

 Standard delivery set**

 Spindle lock

•

 Circular saw

[pcs]

1

 Max. / min. Ø of circular saw blade

[mm]

165/160

 Owner`s manual

[pcs]

2

 Max. / min. bore Ø of circular saw blade

[mm]

20/16

 Circular saw blade

[pcs]

1

 Max. thickness of circular saw blade

[mm]

2,50

 Wrench

[pcs]

1

 Cutting depth by 45°

[mm]

36

 Parallel guide

[pcs]

1

 Cutting depth by 90°

[mm]

55

 Allen key

[pcs]

–

 Weight

[kg]

3,60