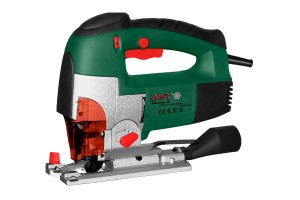 Constructive features:
4-stage pendulum adjustment switch enables the change of stages of pendular motion. Depending on the material used and the task intended, the pendulum adjustment may be set to one of four different levels.
Locking button for on / off switch serves for blocking of on / off switch in depressed position that makes it comfortable to work continuously.
Stroke rate selector may be set to the optimal stroke rate for the work material.The speed may be adjusted when the power tool is running. An optimal setting of speed guarantees a load-free operation.
Soft grip offers additional comfort for the user.
Base plate has a sturdy construction and provides a safe support for precise cutting.
Technical Data

STS-750 VP

 Specification

STS-750 VP

 Rated power

[W]

750

 EAN Code*

7640134121023

 Stroke rate at no-load

[RPM]

700-3000

 Packing type

Colour box

 Amperage at voltage 230 V

[A]

3.40

 Standard delivery set**

 Stroke length

[mm]

26

 Jig saw

[pcs]

1

 Cutting ability in wood

[mm]

100

 Owner`s manual

[pcs]

2

 Cutting ability in aluminium

[mm]

30

 Wing screw for parallel guide

[pcs]

2

 Bevel cuts [left/right]

0-45°

 Aligning pin

[pcs]

1

 Weight

[kg]

3,10

 Vacuuming connector piece

[pcs]

1

 Guide bar for parallel & circle cutting

[pcs]

1