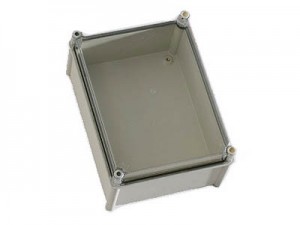 Specifications:
Body Box reinforced polyester fiberglass light gray RAL 7035 (GRP / SMC)
Polycarbonate cover clear or opaque to ultraviolet UV resistant
Maximum IP66 and IK10 impact resistance
Availability of all possible accessories peepholes, grommets, hinges, screws, mounting lugs, pieces of distance shoes, ventilation devices, etc..
Innovation:
Range broader market measures: 24 models of different electrical boxes . (SON 19 (IP66) + 5 (IP43) in 2 versions transparent and opaque cover)
Individual installation or connected together (modularity) for configuration of panels and electrical equipment
Flexibility : Ease of machining operations for input / output cables and power envelope customize your needs. In our factories we have mechanized robots that allow us to do this work for you in a quick, clean and economical.
Double insulation : Electrical equipment or switchgear assembly inside is completely isolated from the outside in order to avoid accidents and electrical safety certification.
Advantages :
Reinforced thermosetting polyester which are manufactured is the best insulating material exists on the market. Ideal even in the toughest environments.
Self-extinguishing material . If there is a fire, the flame will not propagate. The polyester is a thermosetting and not deformed if an overheating or fire. By contrast, the thermoplastic melt, deteriorate and can more easily propagate a flame action. (See video accident fire safety section)
Material non-conductor of electricity : Unlike metal boxes no danger in handling and not run the risk of downloading. (See video shock accident in the security section)
Easy maintenance . They are ideal for outdoor use and perfectly enduring inclement weather in harsh environments because its material is non-hygroscopic and is protected against UV rays, which allows operation from +100 ° to -50 °.
Total absence of toxic compounds and heavy metals to perfection complying with European regulations of hazardous substances